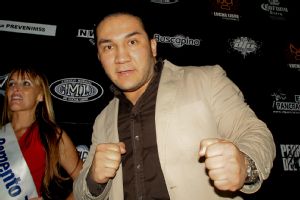 Mexican wrestling star Hijo del Perro Aguayo dies after kick in ring.
Mexican wrestler dies after drop kick from Rey Mysterio
A top Mexican wrestler died on Saturday during a wrestling match in Tijuana involving former WWE champion Rey Mysterio.
A video posted on YouTube showed Hijo del Perro Aguayo (real name: Pedro Aguayo Ramirez) falling unconscious on the ropes after taking a flying kick form Mysterio.
Aguayo suffered a severe whiplash injury during a tag team match against Rey Mysterio.
The match went on for a couple of minutes before the other wrestlers realized that Aguayo was unconscious.
According to reports from Mexican media, Aguayo died due to cervical spine trauma. State prosecutors have already opened an investigation on the matter.
Meanwhile, Mysterio took to Instagram to express his grif over the development.
"I had the privilege to share a ring for the first time with Hijo Del Perro Aguayo in his debut as a professional wrestler & an Honor to be in the Ring with this great Legend for the last time!" he wrote.
More from: http://www.gmanetwork.com/news/story/457353/sports/othersports/mexican-wrestler-dies-after-drop-kick-from-rey-mysterio